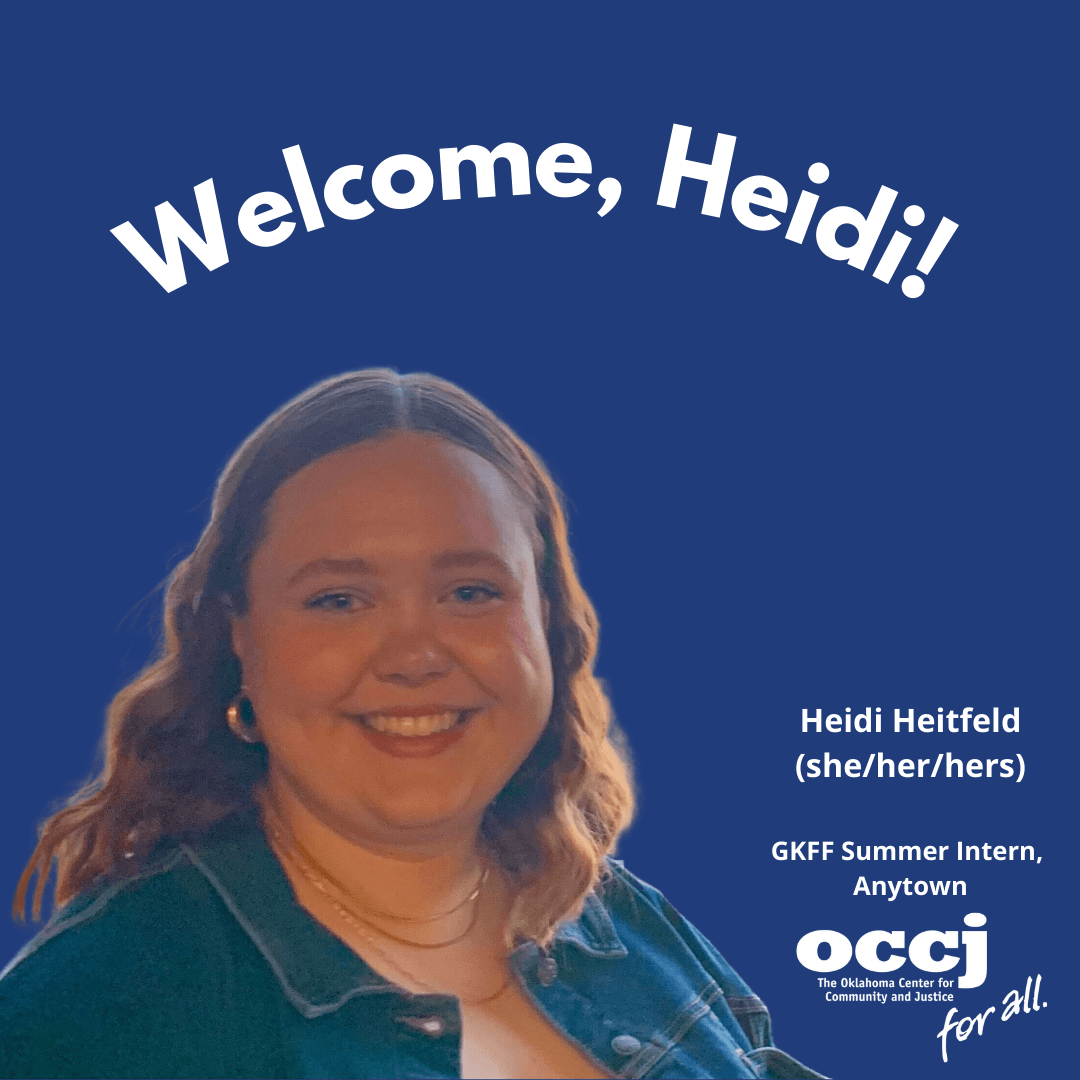 My name is Heidi Heitfeld and I am serving as an intern with the Tulsa Community Foundation under the George Kaiser Family Foundation Summer Impact program for the Oklahoma Center for Community and Justice. I am about to begin my third year pursuing a dual degree in Social Studies Education and Classical Languages at the University of Oklahoma. Following graduation, I hope to stay and teach in Oklahoma. I am passionate about fostering relationships and providing opportunities for learning, growth, and development for students. It is my ultimate goal as an educator that each student feels included, represented, supported and loved in my classroom.
Throughout my time as a student at OU, I have taken a variety of different courses and learned from both my professors and my peers. As an education major, I have had the opportunity to learn how children grow and develop, and what we, as teachers, caregivers, parents, and members of society can do to promote healthy behaviors and ensure the development of social and practical skills. I have learned so much about how we learn as children to become functioning members of society and how we form a sense of identity. Forming this sense of identity is a crucial step in development and growth. This sense of self is influenced by so many things: people, culture, the books we read, the shows we watch, and everything else that we absorb and perceive in our lives.
Representation and inclusion of diverse identities, cultures, and histories is critical in the development of identity. Children base their understanding of who they are and what they can achieve on what they see in their everyday environments. When children see someone who looks like them, who practices the same customs and beliefs, or who has a similar family structure, they are better able to form a sense of identity. When children see someone like them succeeding, they can better see themselves succeeding. Providing inclusive representation is setting children up to be more self-assured and confident in their adult lives. This representation can reduce stigma and limitations stemming from dangerous stereotypes, as well as combat the impacts of systemic issues such as sexism, racism, and classism.
What does this look like in daily life? As an educator, this can look like including a diverse set of viewpoints in lessons, celebrating and educating about different religions, cultures, and customs, visually representing a diverse population in the classroom, and making space for members of underrepresented groups to feel seen and valued. As a parent or caregiver, it can look like reading books that include underrepresented groups and people of color, watching shows that are culturally diverse, and listening to music from different cultures. In general, it can be as simple as a conversation that the world is full of different people, cultures, identities, and beliefs, or taking time to learn more about a different way of life. By taking the time and effort to surround children with inclusive representation, we are surrounding children with opportunities that they might not have ever imagined before.
Throughout the summer, I will have the opportunity to grow and develop my toolkit for providing an inclusive space within my future classroom. I am so excited to get to learn and gain invaluable experience from my time spent as an intern for OCCJ. The work that OCCJ does in the state of Oklahoma is vital in the fight to provide more inclusive representation so that our children and young people can begin to thrive and have pride in their identities. I am especially looking forward to helping facilitate the 2023 Anytown Leadership Institute. At Anytown, we will be shaping identities and encouraging growth by providing high school students with the opportunity to see inclusive representation in action, in addition to learning many other skills and life lessons. At Anytown, anyone can be anything.