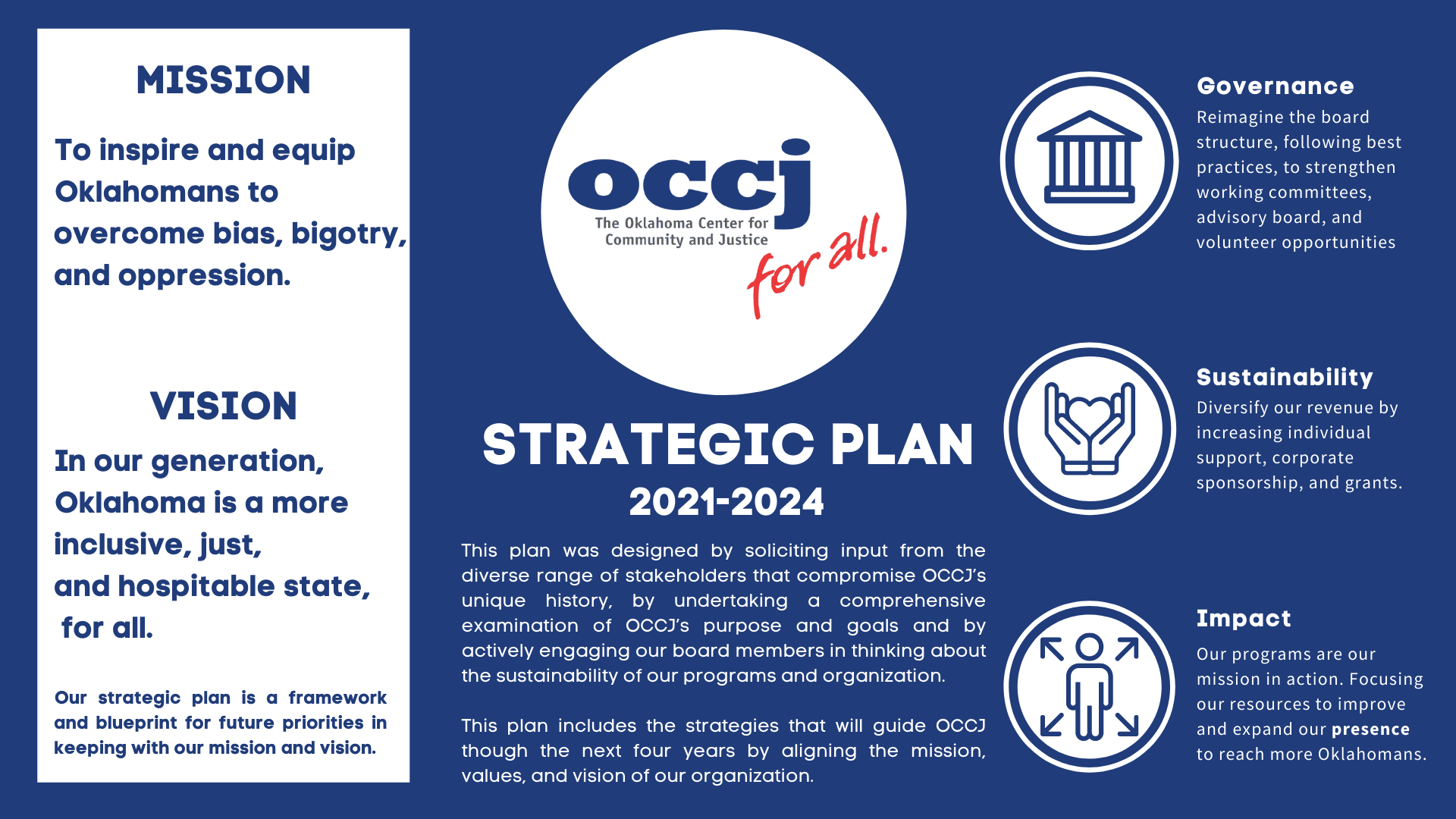 Founded as a volunteer movement in Tulsa in 1934 as a chapter of the National Conference of Christians and Jews, the Oklahoma Center for Community and Justice (OCCJ) has a proud legacy deeply rooted in the community.  The Tulsa NCCJ chapter was formally established as a staffed office in 1958, and through our history in Oklahoma, has been an innovative leader in promoting understanding and mutual respect through advocacy, conflict resolution and education.
With the support of key business, community, education and religious leaders, OCCJ became an organization independent of the national organization in 2005.  Becoming an independent organization allowed OCCJ to address issues impacting Oklahomans.
Today, OCCJ inspires and equips Oklahomans to overcome bias, bigotry, and oppression. Our vision is that in our generation, Oklahoma is a more inclusive, just, and hospitable state, for all.
Our programs and initiatives reach a broad range of ages and are focused on recognizing and celebrating both our differences and our shared humanity. These programs  are a strong thread in the fabric of Oklahoma, weaving through the decades, touching and changing thousands of lives each year, making our communities and our state a better place to live.
OCCJ's work contributes greatly to healthy, educated and empowered communities. Underlying all the economic and social challenges that communities face are the very basic, and often difficult, human relations issues that OCCJ is uniquely positioned to help resolve.
We are headquartered in Downtown Tulsa with a satellite office in Oklahoma City. 
OCCJ is a member of the National Federation for Just Communities (NFJC), a coalition of like-minded organizations working across the United States to bring the values of diversity, inclusion, and social justice to our schools, workplaces, and communities.. Learn more about NFJC HERE.
OCCJ is recognized as having completed the Standards of Excellence course by the Oklahoma Center for Nonprofits. Our certification is valid from 2022-2027, and we can be found on the Oklahoma Center for Nonprofits graduate page.