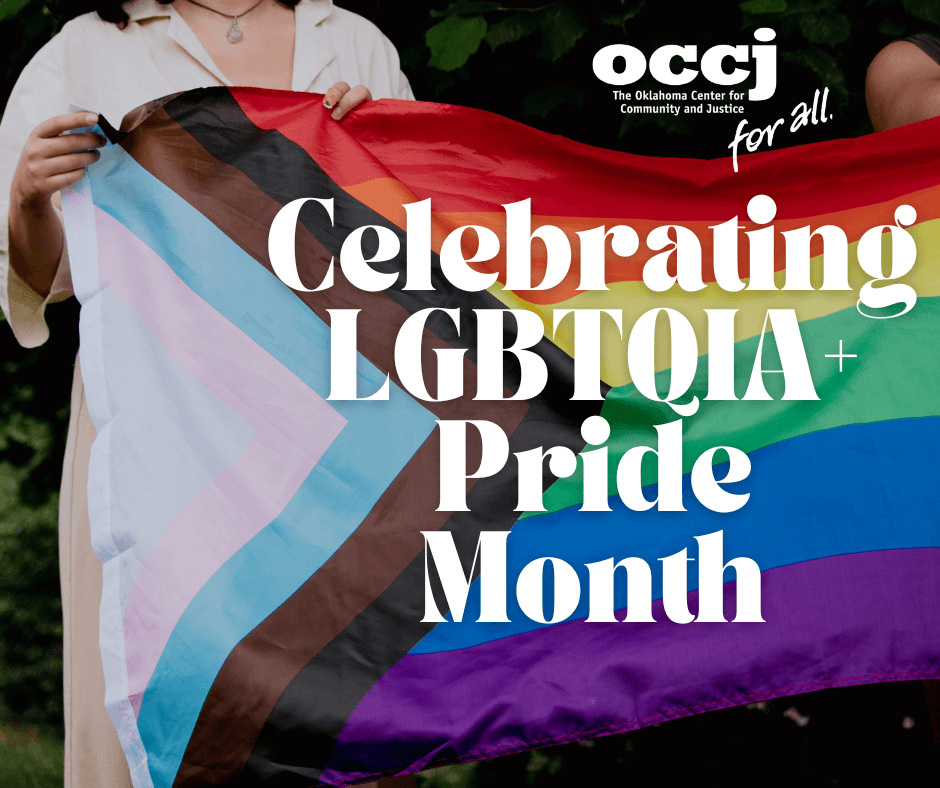 Hello! My name is Tatum Mabes, and I am serving as the Summer 2022 Anytown Intern for OCCJ through the George Kaiser Family Foundation Summer Impact Program! I am a junior at the University of Oklahoma (OU) where I am pursuing a degree in Public and Nonprofit Administration with minors in Spanish and Enterprise Studies. I love to stay involved on campus. I am a member of Theta Nu Xi Multicultural Sorority Inc., and, during the school year, I work at the OU Foundation in the Crimson Callers program. This fall semester, I will serve as the Vice President of Nonprofit Engagement for The Oklahoma Group, a consulting group that provides pro-bono consulting to nonprofits within Oklahoma. I am very passionate about making a positive impact on my community, so I hope to continue working in the nonprofit sector as I extend my career path beyond my college education.
As we begin the summer; we celebrate the month of June as Pride Month! Every year in the U.S., Pride is held during this month to honor the Stonewall Uprisings that took place in June of 1969. A police raid at Stonewall Inn - an LGBTQ+ bar in Manhattan, NY - started it all. The raid turned into a number of rebellions against police brutality, harassment, and state aggression towards members of the LGBTQIA+ community. Although the Stonewall rebellions are recognized with Pride month for their impact, it is important to remember that there were numerous instances of violence and harassment before and after Stonewall. My experience with Oklahoma education and, in particular, the brief lesson I was taught in high school on the Stonewall Uprisings, made it seem as though the events that followed the rebellions eliminated all bias and oppression faced by the LGBTQIA+ community. However, we know this is not the case. As we celebrate Pride and all that it means to our communities, I believe we must also educate ourselves about both current and past injustices and seek ways to be better allies. To me, this means respecting and creating space for LGBTQIA+ community members to exist in their true identities while also stepping back and educating myself on their experiences.
LGBTQIA+ inclusion should not stop in the month of June. Particularly on college campuses, inclusivity can be seen in a multitude of ways throughout the year. Whether that is through a Gender and Equality Center (GEC) or through individual organizations on campus, these programs and initiatives do make a difference. At predominantly white institutes, like OU, intersectionality plays a large role in the inclusion of LGBTQIA+ students. Representation of LGBTQIA+ community members across different backgrounds and lifestyles is important in creating a welcoming and safe culture for all students. In my experience at OU, LGBTQIA+ education is, unfortunately, not something that is heavily emphasized on campus; however, it does exist for those that seek it out. OU's GEC seeks to help create a just and equitable society focusing on LGBTQIA+ inclusion and advocacy. In addition, it offers many different training courses for aspiring allies and serves as an inclusive space on campus for students to hang out. It is important for university staff and educators to model inclusivity from their various positions of leadership. In this way, education about inclusivity and awareness of the LGBTQIA+ community can help shape the leaders of the future to foster safe and inclusive spaces for all.