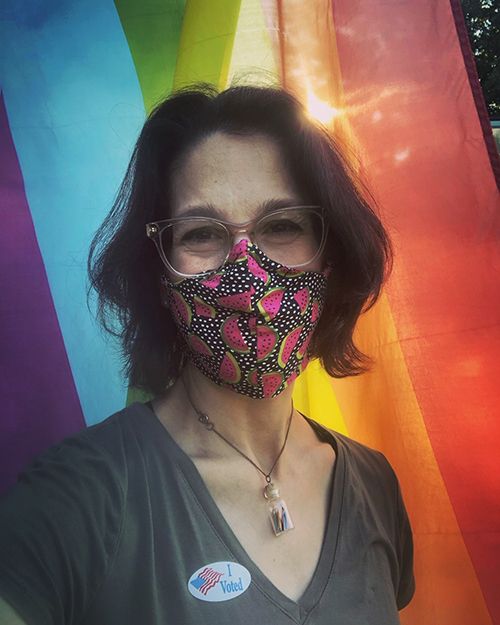 My name is Erika Stone-Burnett, and I am an Oklahoma transplant. I have lived all over the country, but Tulsa has my heart. I became particularly attached when I learned about the 1921 Tulsa Race Massacre — I had never heard of it before! I was shocked to learn that such an important historical event had been downplayed and whitewashed. I aim to learn all I can about the history of racism in Oklahoma, the sociocultural norms across the country at that time, and how the impact of the 1921 Tulsa Race Massacre lives on today.
As an MSW student at the University of Oklahoma, I work in the Hope Research Center, studying the Science of Hope, and how to promote hope culture individually and with organizations. My other passion is for policy and its effects on citizens. Policy is not universally enacted nor enforced, particularly for people from marginalized communities, and I aim to make Tulsa a more just city for all people. To that end, I attend as many local town halls and other meetings with our local officials.
I am thrilled to be an intern at OCCJ for the next year. I love the programs and the focus on inclusion for all people. I am constantly learning how to break down barriers so that more people can become involved in human rights —in Tulsa and beyond! I enjoy assessing and evaluating programs and systems to better serve people in the community. I look forward to the many opportunities I will have over the next year with OCCJ, an organization that has so much support and love from Tulsans. Whenever I tell people that I am completing my internship here, they are so excited because of all the good work by OCCJ.

I live in Tulsa with my family and two dogs. I try to go to the dog park regularly because my dogs are lonely due to the pandemic! I also read a lot of contemporary fiction and occasionally binge a Netflix series. I love Parks and Rec, and I want to be just like Leslie Knope! I also listen to podcasts and cross-stitch when I have free time. Thank you for the warm welcome to OCCJ, and I look forward to spending the next year with the community.