History of the Trialogue Series
For over 30 years, OCCJ has brought together Tulsans of various faiths for the annual Interfaith Trialogue. The series seeks to tackle tough issues in a way that helps us live together with our deepest differences.
"The views expressed are sometimes deeply unsettling, and it feels healthy to confront our differences and to expose ourselves to views that are powerfully divergent," Rabbi Marc Boone Fitzerman, says. "It's a never-ending conversation. Over and over again, it's honest conversations on some of the most difficult issues in society. It's a fearless project. The topics we have engaged in the past quarter of a century reflect that – violence, immigration, the relationship between religion and state."
Sheryl Siddiqui, longtime director of Community Relations and American Outreach for the Islamic Society of Tulsa, says that over the years, a broad variety of themes have been addressed. "Religion is one of the things that could bring us together, but it also divides us. OCCJ helps address the ills of our community in our interpersonal relationships."
The OCCJ Trialogue Series is made possible in part by the Tulsa Library Trust's Alfred E. Aaronson Lecture Series Endowment. The Tulsa Library Trust's Alfred E. Aaronson Lecture Series Endowment was initiated in 1969 on the occasion of Alfred E. Aaronson's retirement from the Tulsa City-County Library Commission, the Gilcrease Museum Board and the Tulsa Community Relations Commission. Funds collected in his honor were dedicated to bringing authorities to the community to stimulate thought and action in fields where voids exist and offer other points of view.
For more information please email info@occjok.org.
---
2019 Trialogue Series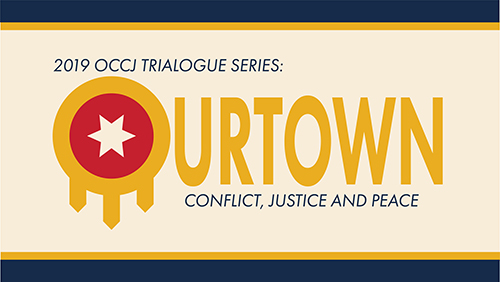 For decades social change activists have said, "If you want peace, work for justice." But we also know that working for justice evokes conflict. Working with conflict is particularly difficult in a culture as highly polarized as today's culture. The 2019 Trialogue series started with a skill-building session for dealing with conflict and bias. The following sessions featured moderated panel conversations, one with elected leaders and another with religious leaders. Each panel addressed matters of conflict, justice and peace in their work. 
2019 Trialogue Speakers
Session One - Conflict & Bias
Dr. Dewayne Dickens, Developmental English Associate Professor, Tulsa Community College
Sarah Rana, Programs Director, Oklahoma Center for Community & Justice 
Jesse Ulrich, Director of Jewish Learning and Engagement, Jewish Federation of Tulsa
Session Two - Politics & Leadership 
Representative Carol Bush, District 70 
Representative Monroe Nichols, District 72
Tulsa City Councilor Kara Joy McKee, District 4
Session Three - Religion & Community 
Rev. Cathey Edwards, Hope Unitarian Church
Rev. Todd Freeman, College Hill Presbyterian Church 
Rabbi Dan Kaiman, Congregation B'nai Emunah 
Allison Moore, The Surayya Anne Foundation
Rev. Anthony L. Scott, First Baptist Church North Tulsa 
Downloads