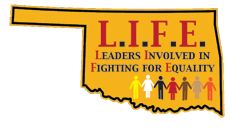 Leaders Involved in Fighting for Equality (L.I.F.E.) is the Anytown Leadership Institute Alumni organization. This group meets quarterly to continue the friendships made at camp, further the mission of Anytown, and participate in community service projects.
The Gwen and Steve Malcolm Inclusive Leadership Scholarship is a financial need-based scholarship available to graduating high school seniors and current college students who attended Anytown Leadership Institute. Students are eligible if they have been actively engaged with the Anytown Alumni group (L.I.F.E.), the Oklahoma Center for Community and Justice or other community leadership and service groups. A $1,500 scholarship will be presented to two students. The application deadline is Friday, June 1, 2018.
Recipients of the Gwen and Steve Malcolm scholarship are encouraged to attend OCCJ's quarterly board meeting where they will be announced to the board.
Apply for the Gwen and Steve Malcolm Inclusive Leadership Scholarship:
Application Deadline: Friday, June 1, 2018