Will COVID-19 affect Anytown?
Like you, we're watching with concern as COVID-19 continues to affect our communities and change how we approach our daily lives. In light of this, we are taking a moment to outline our commitment to our Anytown community – past and prospective.
At present, Anytown Leadership Institute will take place as scheduled. OCCJ staff is closely monitoring CDC guidelines for gatherings.
You and your family can feel confident applying now for Anytown 2020.
However, should the situation change, know that all Anytown tuition payments are fully refundable. This means:

If circumstances change and Anytown is canceled or postponed, or if you make the decision not to send your student to Anytown this summer, we will fully refund all payments.
Alternatively, if your student is eligible for Anytown 2021, we can apply for your payment and save your spot for next year – it's your choice.
Don't forget that need-based scholarships are available to all applicants thanks to generous sponsors. 
Questions or concerns? Email our Director of Programs, Avery Marshall, or call (918) 583-1361.
---
Registration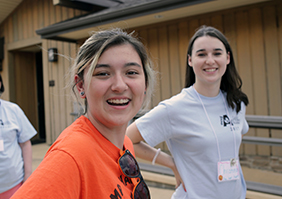 Anytown Leadership Institute is July 19 through 25 at Oklahoma State University-Stillwater. This program promotes self-confidence, leadership, and inclusion in a diverse atmosphere. Incoming sophomores, juniors and seniors from across Oklahoma are eligible to participate in this award-winning human relations program.
Anytown is often described as a "life-changing" opportunity by delegates who attend. This leadership training has made a difference in the lives of more than one thousand students since 1994. For additional information, click here, contact OCCJ at (918) 583-1361 or email info@occjok.org.
To apply for Anytown Leadership Institute, fill out the application below: