Anytown Leadership Institute promotes self-confidence, leadership, and inclusion in a diverse atmosphere; the program is often described as a "life-changing" opportunity by delegates who attend. Current freshman, sophomores and juniors from across the state are eligible to participate and encouraged to apply to this award-winning, human relations program.
---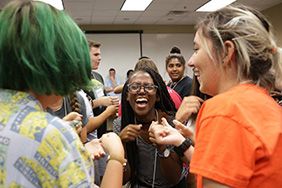 Application & Selection Process:
Submit the application and ONE letter of recommendation* 
A committee will review all applications and select 60 applicants to participate
Applicants will be notified of selections on a rolling basis beginning April  27, 2022
If applicant is not in receipt of a scholarship, payment must be received by Friday, July 22, 2022 (Cost $450).  
*In addition to completing the application, all applicants must submit a letter of recommendation written by an advisor from a leadership activities the applicant is involved in. The recommendation letter should indicate why the applicant should be accepted to Anytown Leadership Institute. Please email letters to OCCJ Staff at info@occjok.org. Letters of recommendation may also be sent by post to:
The Oklahoma Center for Community and Justice
Attn: Anytown Staff
100 West 5th Street, Ste. 335
Tulsa, Oklahoma 74103
Scholarships are available - Click HERE For More Information
---
To apply for Anytown Leadership Institute, fill out the application below: