Anytown Leadership Institute 2021 is a three-day leadership and skill building experience that brings together a diverse group of 60 high school student delegates representing schools throughout the Tulsa Metro. With the guidance of a well-trained volunteer staff, Anytown Leadership Institute delegates learn skills to confront and challenge prejudice, bias and stereotypes and discover new ways to become allies for one another.
Will COVID-19 affect Anytown?
We are committed to the safety of our students, volunteers and staff, and will make any decisions regarding Anytown Leadership Institute 2021 with public health and safety at the forefront. We hope to hold Anytown in-person, but realize this may not be possible and will have an alternate virtual program available.
Anytown Leadership Institute 2021 will take place July 27-29, 8 AM – 6 PM.
Registration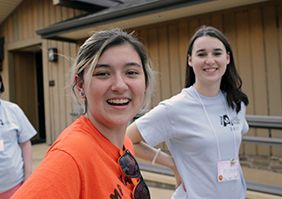 This program promotes self-confidence, leadership, and inclusion in a diverse atmosphere. Incoming sophomores, juniors and seniors from the Tulsa Metro are eligible to participate in this award-winning human relations program.
Anytown is often described as a "life-changing" opportunity by delegates who attend. This leadership training has made a difference in the lives of more than one thousand students since 1994. For additional information, click here, contact OCCJ at (918) 583-1361 or email info@occjok.org.
To apply for Anytown Leadership Institute, fill out the application below: