Anytown Leadership Institute 2021 is a three-day leadership and skill building experience that brings together a diverse group of 60 high school student delegates representing schools throughout the Tulsa Metro. With the guidance of a well-trained volunteer staff, Anytown Leadership Institute delegates learn skills to confront and challenge prejudice, bias and stereotypes and discover new ways to become allies for one another.
Anytown Leadership Institute took place July 27-29, 2021 at the Oklahoma State University Tulsa campus.
We are committed to the safety of our students, volunteers and staff and will make any decisions regarding Anytown Leadership Institute 2021 with public health and safety at the forefront. We are current planning to hold Anytown in-person. If public health officials determine that this will be unsafe, we will have an alternate virtual program available if necessary.
---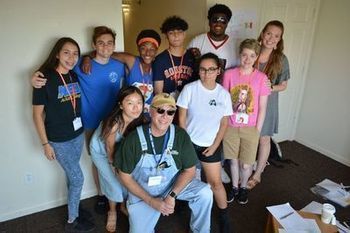 Anytown Leadership Institute is a leadership experience for incoming high school sophomores, juniors and seniors.
At Anytown, delegates build an inclusive community based on mutual respect and understanding. Delegates of diverse backgrounds have an opportunity to meet people whom they would not otherwise meet, and they often develop lifelong friendships and connections.
During the program, delegates participate in a variety of workshops and activities that develop their awareness and skills to lead in a diverse society. In a respectful environment and guided by experienced staff, delegates have the opportunity to discuss topics such as bullying, racial discrimination, and gender stereotypes. Students also engage in action-planning for taking leadership on issues of inclusion and justice.
Over a thousand young leaders have graduated from the Anytown Leadership Institute since its inception in 1994. Anytown graduates represent a wide array of careers, including the arts, business, education, journalism, law, medicine, military and public service, scientific research, and social work.
Follow us on Facebook and Instagram for updates on Anytown. 
What we explore at Anytown Leadership Institute 2021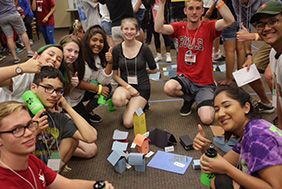 Leadership skills
Interpersonal communication skills
Multicultural awareness
Interreligious understanding
Individual and systemic discrimination
Addressing prejudice and discrimination
What to expect at Anytown
Anytown Leadership Institute presents serious topics in a supportive atmosphere where delegates make new friends, gain self-confidence and become stronger leaders.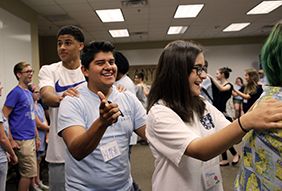 Delegates & Staff
Anytown Leadership Institute delegates represent a wide variety of racial, religious, ethnic and economic backgrounds.
The Anytown Leadership Institute staff is comprised of experienced co-directors and adult advisors, who are community leaders with human relations and communications skills, as well as college-age counselors familiar with OCCJ's values.
Application Process
The Anytown Leadership Institute selection process begins with the submission of an application and a letter of recommendation from an adult advisor involved in a leadership activity listed on the application.
The fee for attending Anytown Leadership Institute is $150, which includes meals, all workshop materials and a program T-shirt. Full and partial scholarship assistance is available.