Anytown 2023 was held on Sunday, July 16 - Saturday, July 22 at Oklahoma State University in Stillwater.
Anytown is a dynamic program that brings together a diverse group of youth ages 14-18 who represent schools and communities throughout the state of Oklahoma. With the guidance of a well-trained volunteer staff, Anytown Leadership Institute delegates learn skills to confront and challenge prejudice, bias and stereotypes and discover new ways to become allies for one another.
We are committed to the safety of our students, volunteers and staff and will make any decisions regarding Anytown Leadership Institute 2023 with public health and safety at the forefront. We are currently planning to hold Anytown in-person. If public health officials determine that this will be unsafe, we will have an alternate program available.
Applications for this year's Anytown are now closed. To be added to a waitlist for 2024 - our 30th Anniversary of this program - please contact Cara Golden at cgolden@occjok.org. 
---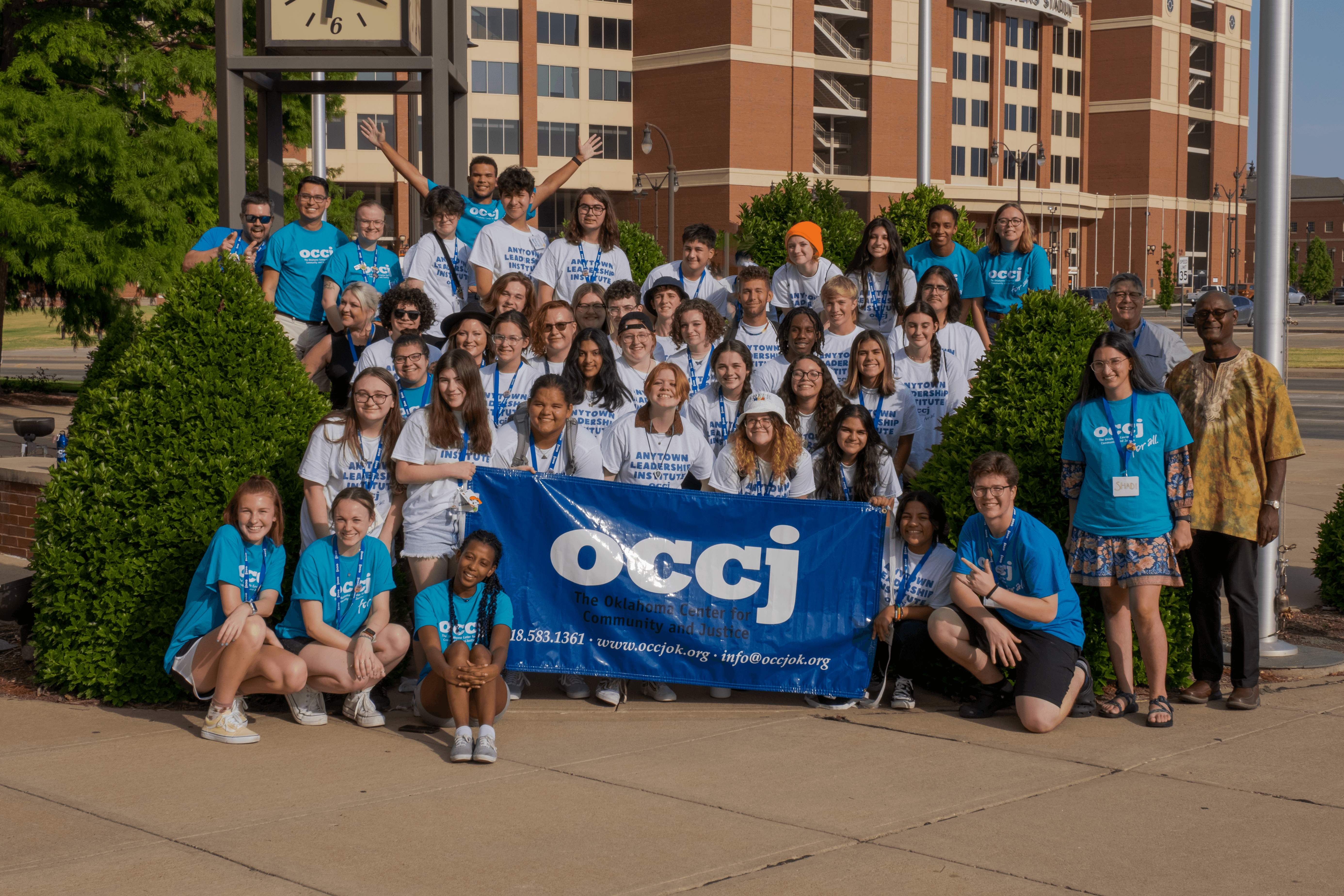 What it is:
Anytown Leadership Institute is a leadership experience for youth ages 14 - 18 from across the state of Oklahoma.
At Anytown, delegates build an inclusive community based on mutual respect and understanding. Delegates of diverse backgrounds have an opportunity to meet people whom they would not otherwise meet, and they often develop lifelong friendships and connections.
During the program, delegates participate in a variety of workshops and activities that develop their awareness and skills to lead in a diverse society. In a respectful environment and guided by experienced staff, delegates have the opportunity to discuss topics such as bullying, racial discrimination, and gender stereotypes. Students also engage in action-planning for taking leadership on issues of inclusion and justice.
Over a thousand young leaders have graduated from the Anytown Leadership Institute since its inception in 1994. Anytown graduates represent a wide array of careers, including the arts, business, education, journalism, law, medicine, military and public service, scientific research, and social work.
Follow us on Facebook and Instagram for updates on Anytown. 
What we explore and What to expect:
Anytown Leadership Institute presents serious topics in a supportive atmosphere where delegates make new friends, gain self-confidence and become stronger leaders. The program is intentionally designed to help youth navigate and explore the following concepts: 
Leadership skills
Interpersonal communication skills
Multicultural awareness
Interreligious understanding
Individual and systemic oppression
Prejudice and discrimination
About our delegates & volunteer staff:
Our Delegates
Anytown Leadership Institute delegates are the magic of this program! All are passionate about learning more about others, finding and honing their voice and becoming leaders and agents of positive change in their communities (if they are not already!). Each cohort represents a wide variety of racial, religious, ethnic and socio-economic backgrounds and life experiences. If this sounds like you, please apply today!
Our Volunteers
OCCJ could not do this program without the dedicated commitment of our staff volunteers! The dynamic group is comprised of experienced co-directors and adult advisors, who are community leaders with human relations and communications skills, as well as college-age counselors, many of them past Anytown delegates, who are familiar with and committed to OCCJ's values and the Anytown spirit. Our volunteer staff undergo a detailed background check and program-specific training before joining our youth for the summer. If you are interested in serving, please contact Cara Golden at cgolden@occjok.org.