This Machine Campaign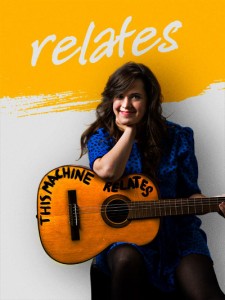 "This Machine" got started in 2010, but its origins go much further back.
Oklahoma icon Woody Guthrie made his name in the 1930s singing and writing about the human condition and social justice. A devout believer in the power of music, Guthrie often carried a guitar bearing the words, "This Machine Kills Fascists."
"I hate a song that makes you think you are born to lose," Guthrie once said. "Bound to lose. No good to nobody. No good for nothing. Because you are too old or too young or too fat or too slim or too ugly or this or too that…I am out to sing songs that prove to you that this is your world."
Inspired by Guthrie, a group of Oklahomans have banded together to create "This Machine," a public service campaign to help the Oklahoma Center for Community and Justice fight bias, bigotry and racism. The concept was developed by a collection of writers, photographers, designers, public relations professionals and friends — all of whom believed in the power of human rights through music.
Symbolizing music as a unifying force, "This Machine" represents a direct connection to Guthrie's legacy and Oklahoma's rich musical heritage.
For the campaign, the creative team sought emerging and established artists that represent both musical and ethnic diversity. But mostly, they looked for musicians who believed in OCCJ's mission — to fight prejudice and intolerance.
Musicians, designers and other collaborators quickly jumped onboard. Most of the photos and videos were shot in Jeremy Charles's downtown Tulsa studio. Magazines and newspapers were contacted about donating free advertising space — and responded with a resounding "yes." The creative process continued throughout the summer and the campaign was launched on Aug. 5, 2010.
All the work on the project was done at no charge. Sponsors Williams, the IDL Ballroom and Yokozuna helped stage a campaign launch party on Aug. 7.
The creative team, musicians and sponsors worked together to unite people of different backgrounds toward a common goal of inclusiveness and tolerance.
Watch the "This Machine" Video online: http://www.occjrocks.com/video/