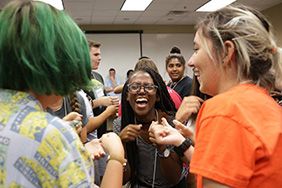 To our Anytown friends,
Thank you for helping us continue the tradition of Anytown in the hearts and minds of youth across Oklahoma. For over 25 years, this residential program has united individuals to create an inclusive community based on respect and understanding. This program inspired change in our delegates, volunteers and staff, and we look forward to sharing the Anytown message each summer with a new class of delegates.
As you can imagine, however, the very nature of the program creates unique, in some cases, insurmountable, challenges concerning social distancing recommendations from the CDC. Our overwhelming desire at this moment is to protect our delegates and volunteers, and it is our opinion the safest way forward is to cancel the 2020 session of the Anytown Leadership Institute.
This was not an easy decision, but we are committed to following the guidelines set by the CDC.
Our position is far from unique, and we continue to explore how we can adapt our programs to serve the community in the new landscape. This summer may not look the same as many of the summers that have come before or any that will come again. What we do know is that Anytown will continue to be a life-changing experience for young people we impact.
We are with you and we are here for you.
Yours in the Anytown spirit,
Moises, Avery, Eileen, and Sandi