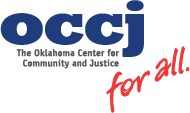 We wanted to update you on the steps we're taking to ensure the health, safety and well-being of our volunteers, program participants and staff. As this situation continues to develop, we have been in communication with our stakeholders, clients, and monitoring communications from local schools and faith communities in order to determine the best path forward. After thoughtful and deliberate discussion, we have made the following decisions regarding the upcoming programs and initiatives:
We are postponing the Youth Race Relations Forum to the fall of 2020.
We are exploring a streaming option for the March session of "One From Many."
Our Interfaith Study Groups will not meet in March or April.
We are working with schools to ensure they have the curriculum they need for any OCCJ programs they receive. This will allow counselors and educators to self-facilitate within their school communities while allowing our volunteers to practice social distancing. 
Internally, our team will be working remotely until April 1. You may continue to reach us at (918) 583-1361 or by email at info@occjok.org.
UPDATE: We are postponing the Youth Interfaith Tour (previously scheduled for April 26). 
We remain mindful that this is an evolving situation. We will be in communication as the need arises to adapt or reschedule programs or events.
 
We appreciate your support and welcome your questions.