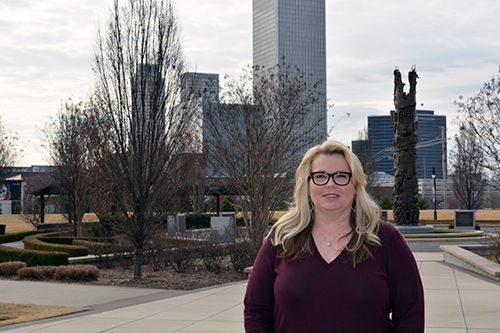 Are you interested in learning more about how your membership gift makes an impact? Or perhaps you're curious about how our board leadership started their "OCCJ journey"? Read our interview with OCCJ Vice Chair for Membership, Denise Reid, who joined the OCCJ Executive Committee in 2016 as the Vice Chair for Public Policy and moved into her role at the Vice Chair for Membership in 2019.
How did you get connected with OCCJ?
My work has always had a diversity and inclusion focus – particularly from a talent, attraction and retention perspective, but my work with the Tulsa Regional Chamber was one of the ways I became involved with OCCJ. I also worked on a volunteer-led community event called the Return On Inclusion Summit and one of our founding members went to work for OCCJ. This is what really formed my connection with the organization.
What's been your most meaningful "OCCJ moment"?
Hearing from Anytown delegates is always incredibly powerful and moving. Last year at the Board of Directors' meeting one of the Burmese students shared her experience coming to the U.S. with her family as a refugee. She said Anytown Leadership Institute made her feel like she was seen and heard for the first time.
While she was sharing her story, she was full of emotion, and her passion and story touched me to my core. Everyone deserves to be seen, heard and valued. We shouldn't have to create programs to make this happen, but we do, and I'm proud to work with OCCJ to make this happen.
What would you tell someone about becoming an OCCJ member?
If you are passionate about connecting with diverse programs, ideas and concepts, OCCJ provides the community, network and opportunities to do so.
How do you see the impact of OCCJ in our community?
OCCJ's work shows up in our community at so many stages – through Anytown Leadership Institute, Inclusive Leadership Institute, Teen Trialogue, and more. However, we need more people on the edges of this work to join us in learning more about others in our community. Let's learn to connect more intentionally with people outside our comfort zone and work on being comfortable being uncomfortable.
Why do you choose to continue to be a member of OCCJ?
We still have work to do to make our state welcoming to all people. If we want to prosper as a state, economy or community, we need people to feel safe so they can prosper. Our "Oklahoma Polite" needs to extend to everyone no matter their race, religion, gender, etc. and I want to help make this a reality in Oklahoma. I believe my work with OCCJ is part of making this a reality
Join Denise in supporting OCCJ as a member and fund the mission of OCCJ by underwriting programs like Anytown Leadership Institute and Different and the Same. Join today.