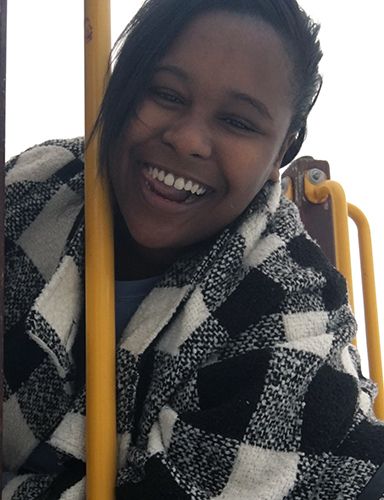 There may not be a traditional Anytown this summer, but we're not going to let that dampen our Anytown spirit. We're using this time to reconnect with some of our Anytown delegates to see what they are up to. If you are an Anytown alumni and would like to share your story, contact Sandi Cox at scox@occjok.org. 
Demetra Sanders attended Anytown in 2019 and is a student at Union High School. 
When I got on the bus to go to Anytown Leadership Institute, I was sitting in my bubble, scared to talk to people, worried I might say the wrong thing. During the week, I was more and more comfortable.
All of the activities with important messages showed me that I'm unique in my way and that I have gifts to share with the world, things to show to the world, and smiles to give. After I went to Anytown, I realized that I have a voice to share and make a change.
I have been trying to participate in protests and rallies. Sharing information about "sensitive" subjects to my family and friends. Sharing the knowledge that I have and receiving some information that I may not know.
After Anytown, I think my family and friends noticed a change. The change was me being more outgoing and realizing we are all human, and that we have feelings that need to be shared.
I am spreading the message by showing my peers what it's like to be different yet so similar. Us being a different skin tone or having different tastes in music, yet we still get along with one another. I leave a trail that many people may follow and I have to show them it's OK to make mistakes – that's the most important gift that Anytown gave to me.