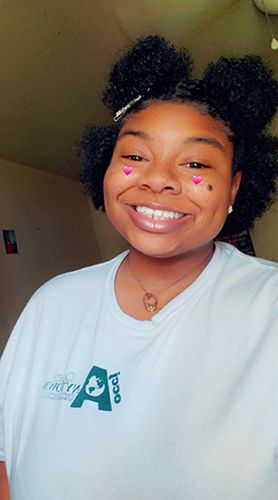 There may not be a traditional Anytown this summer, but we're not going to let that dampen our Anytown spirit. We're using this time to reconnect with some of our Anytown delegates to see what they are up to. If you are an Anytown alumni and would like to share your story, contact Sandi Cox at scox@occjok.org. 
Tayler is a high school student and attended Anytown Leadership Institute in 2019. Tayler has become more involved in activities, such as leadership camps/conferences, and is making a change in the world. She is spreading the message of Anytown by volunteering, being more positive, and talking about things that are important to her, such as social justice. She started working on her new brand which is called Melanin Takeover. She is active with an organization that is going to benefit kids and teenagers called Be Beyond Better. She hosted her own Black Is Beautiful event and became the president of the African American Student Organization at Union High School! 
In the summer of 2019, I decided to try something new. Anytown was a leadership camp that I was interested in attending but was fearful of applying because I could not afford to go. I applied to Anytown and I was awarded a scholarship to attend.
When I first arrived, I was reluctant to open up to strangers, but I gave it a try and I am so happy I did because it changed my life. With the help of Anytown, I wasn't afraid of speaking on the subjects people call "touchy". I have made it one of my goals to un-peel the tape that's been separating us. Anytown taught me to accept others no matter the race, gender, religion, social class, etc. My eyes have been opened from my experience at Anytown, and because of this experience, I have become more involved in social justice I have had the chance to get to know people who are from different backgrounds and who want to see a change in the world.
I believe that most people want to make a change in the world, but they may not have the right people to motivate or push them. Anytown was my motivation and my push to make a difference. I decided to put what I learned to work starting at my school and with my community. I am amazed at how one week away from my home changed my life forever.
At Anytown, one of the best things that I did was open up and share more. Not only did I connect with people on a deeper and more personal level, but it also taught me that talking about the pain you're feeling and the struggles you have is not a sign of weakness, it makes you stronger. One spark can become a flame and I believe that Anytown Leadership is the flame that will create a genius generation!