Oklahoma City Annual Awards - honoring Claudia San Pedro
2021 Oklahoma City Annual Awards
In person option: Embassy Suites - 741 N Phillips Ave, Oklahoma City, OK 73104
Virtual option: we will be providing an at home experience for the comfort of our guests who prefer this option
Tuesday, November 2, 2021; 6:00 p.m. - 9:00 p.m.
Cocktail attire
Masks strongly encouraged
For individual tickets, click here. 
Our Oklahoma City Annual Awards honors individuals of outstanding dedication and community service in the region. Honorees exhibit an extensive record of involvement in civic, charitable, volunteer, and professional organizations, and have contributed to the improvement of human relations among diverse groups in Oklahoma. 
The annual awards are the major fundraising event for our free school and youth programs. Our programs range from "Different and the Same," to community discussions addressing current issues such as racism, xenophobia, and, anti-semitism. During the pandemic, we shifted to an accessible, virtual program model that allowed us to reach over 3,700 educators, professionals, and families during the spring. 
Current events illustrate the need for OCCJ's work. At the heart of our mission is creating spaces for dialogue and facilitating programs that serve to empower, educate, and inspire Oklahomans to create inclusive communities, and ultimately, overcome oppression. 
For sponsorship information, please contact Eileen Schaumleffle at eschaumleffle@occjok.org or 918.583.1361.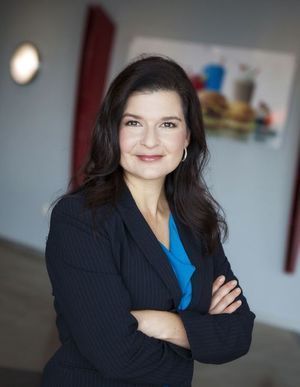 Honoring Claudia San Pedro
It is our greatest pleasure to announce that OCCJ is honoring Claudia San Pedro for her commitment to diversity and inclusion and dedication to Oklahoma's students. 
Claudia San Pedro serves as President of SONIC Drive-In, part of the Inspire Brands family of restaurants. Inspire is a multi-brand restaurant company whose portfolio includes more than 8,400 Arby's, Buffalo Wild Wings, SONIC, and Rusty Taco locations worldwide.
San Pedro sets the strategic direction for SONIC and is responsible for overseeing the brand's marketing, operations, and supply chain teams. She is also responsible for the growth and success of SONIC's company-owned restaurants as well as the brand's relationship with its franchise community.
San Pedro joined SONIC in 2006 as vice president of investor relations and treasurer. In that role, she directed financial planning, procurement, and investment of funds for the organization, formulated investor relations strategy, and oversaw communications with the investment community.
San Pedro was promoted to executive vice president and chief financial officer in 2015, and was responsible for SONIC's financial planning practices, as well as the brand's relationship with lending institutions, shareholders, and the financial community.
Prior to joining SONIC, she served as the director for the Oklahoma Office of State Finance (OSF). Appointed by Governor Brad Henry in 2005, San Pedro was the first female and first Hispanic to serve as director of state finance for Oklahoma.
Previously, San Pedro served as the assistant director of the Oklahoma State Senate fiscal staff and a staff budget analyst for the senate appropriations subcommittees on education, human services, and general government.
San Pedro currently serves on the boards of the Greater Oklahoma City Chamber of Commerce, BOK Financial, and the Foundation for Oklahoma City Public Schools.
San Pedro is an alumna of Smith College in Massachusetts. She also received an MBA from the University of Oklahoma
2021 Annual Awards Committee
Russ Florence, Chair
Mary Melon, Honorary Chair
Susan Shields, Honorary Chair
Howard Barnett, Jr.
Maggie Hoey
Dave Lopez
Dr. David Macey
Karma Robinson
Muhammet Ali Sezer
Brooke Townsend