2016 Trialogue Series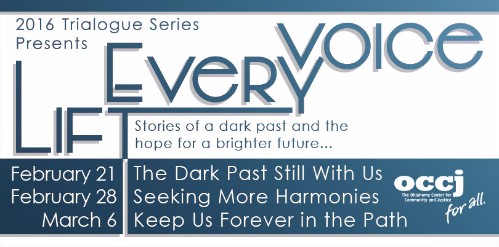 The objective of this year's Trialogue is to take a look at how we can diminish hateful, bigoted and racist behaviors and increase peace-making behaviors by identifying patterns of systemic oppression, sharing diverse personal narratives of these behaviors and creating strategies for peace-making. You will hear stories from various community leaders with different experiences of bigotry, hatred and racism in Oklahoma and learn how to create a healthier environment for all. 
Below are the dates and the location for this year's sessions:
February 21 - The Dark Past Still With Us

​Experiences of bigotry, hatred & racism in Oklahoma

February 28 - Seeking More Harmonies

Agents of positive change make gains in their communities

Dr. Deborah Gist, Tulsa Public Schools
Rhonda Mayhan, ONE Gas
M. Susan Savage, Morton Health Services

March 6 - Keep Us Forever in the Path

What can we do to live in peace?

Rabbi Dan Kaiman, Congregation B'nai Emunah
Allison Moore, Islamic Society of Tulsa
Rev. Anthony Scott, First Baptist Church North Tulsa
All sessions will be held at the Wilson Learning Center, 1127 South Columbia Avenue, Tulsa, OK 74104. Sessions are from 2:00 PM to 4:00 PM.
Register on Facebook or to info@occjok.org
---
For over 30 years, OCCJ has brought together Tulsans for the annual Trialogue. The series seeks to tackle tough issues in a way that helps us live together with our deepest differences.
"The views expressed are sometimes deeply unsettling, and it feels healthy to confront our differences and to expose ourselves to views that are powerfully divergent," says Marc Boone Fitzerman, Rabbi at Congregation B'nai Emunah. "It's a never-ending conversation. Over and over again, it's honest conversations on some of the most difficult issues in society. It's a fearless project. The topics we have engaged in the past quarter of a century reflect that – violence, immigration, the relationship between religion and state."
 Over the years, a broad variety of themes have been addressed. Says Sheryl Siddiqui, director of Community Relations and American Outreach for the Islamic Society of Tulsa, "Religion is one of the things that could bring us together, but it also divides us. OCCJ helps address the ills of our community in our interpersonal relationships."
The OCCJ Trialogue Series is made possible in part by the Tulsa Library Trust's Alfred E. Aaronson Lecture Series Endowment. The Tulsa Library Trust's Alfred E. Aaronson Lecture Series Endowment was initiated in 1969 on the occasion of Alfred E. Aaronson's retirement from the Tulsa City-County Library Commission, the Gilcrease Museum Board and the Tulsa Community Relations Commission. Funds collected in his honor were dedicated to bringing authorities to the community to stimulate thought and action in fields where voids exist and offer other points of view.
To register or for more information please email info@occjok.org.