New Leadership Roundtable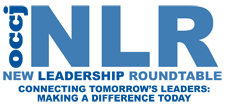 NLR
OCCJ's New Leadership Roundtable (NLR) is a leadership development program for young professionals committed to diversity and to fighting bias, bigotry, and racism. NLR members have the opportunity to participate in programs focused on workplace discrimination, promoting a diverse and inclusive workforce and culture, developing new programs and outreach for the young professional community, and assisting OCCJ in program, public awareness and development efforts.
NLR's mission is to attract and utilize the next generation of young professional as activists to spread the concept of a fair and unbiased workplace. NLR regularly meets on the second Thursday of each month. NLR Leadership After Hours is an opportunity for young professionals in the Tulsa area to gather -- in a fun and social atmosphere -- to network and discuss monthly topics concerning diversity and inclusion with OCCJ board members, Tulsa business leaders and other young professionals.
For more information contact Moises Echeverria at mecheverria@occjok.org or call the OCCJ office at (918) 583-1361.
Please mark your calendars for the following events:
NLR's next Leadership After Hours will be held September 12 at The Vault 624 S Cincinnati Avenue, Downtown, 5:30 – 7:00 pm. The topic will be Analizing the Data: Topics Involving Young Professionals. David Blatt will be the speaker at this event. Come for the conversation, cocktails and complimentary hors d'oeuvres. Please feel welcome to invite friends and co-workers to this event.
Check us out on these social media sites:
Join OCCJ's New Leadership Roundtable: