Interfaith Trialogue Series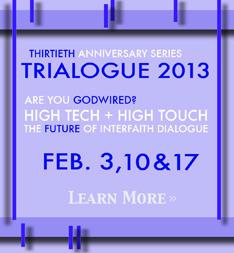 The 2013 Interfaith Trialogue Series, "Are you Godwired? High Tech and High Touch: The future of interfaith dialogue" was held on February 3, 10 and 17. Sessions were held at Jewish Federation of Tulsa, Peace Academy and Boston Avenue United Methodist Church from 2:00 - 4:00 pm.
Session 1, "The Data Stream of Faith," Feb. 3, 2-4 p.m., Charles Schusterman Jewish Community Center, 2021 E. 71st St. – We live in a fractious, polarized universe. Experts will provide trends, data and demography on religious life in contemporary America.
Session 2, "High Touch Dialogue for Today," Feb. 10, 2-4 p.m., Peace Academy, 4620 S. Irvington Ave. – In an era of angry extremism, does dialogue still have worth and value? Can people of faith come together, face to face, to talk honestly with each other about their similarities and differences?
Session 3, "High Tech Global Dialogue," Feb. 17, 2-4 p.m., Boston Avenue United Methodist Church, 1301 S. Boston Ave. – The brave new world of digital connectivity has now arrived. Can a photon express the love of God? Can a glowing screen be a place of holiness and shared experience?
For the past 30 years, OCCJ has brought together Tulsans of various faiths for the annual Interfaith Trialogue. The series seeks to tackle tough issues in a way that helps us live together with our deepest differences.
"The views expressed are sometimes deeply unsettling, and it feels healthy to confront our differences and to expose ourselves to views that are powerfully divergent," says Marc Boone Fitzerman, Rabbi at Congregation B'nai Emunah. "It's a never-ending conversation. Over and over again, it's honest conversations on some of the most difficult issues in society. It's a fearless project. The topics we have engaged in the past quarter of a century reflect that – violence, immigration, the relationship between religion and state."
Over the years, a broad variety of themes have been addressed. Says Sheryl Siddiqui, director of Community Relations and American Outreach for the Islamic Society of Tulsa, "Religion is one of the things that could bring us together, but it also divides us. OCCJ helps address the ills of our community in our interpersonal relationships."
The Rev. Dr. Bill Crowell, associate minister at Boston Avenue United Methodist Church and chair of the series for the 8th consecutive year, says of the planning committee, "We're reaching out to the young population and young professionals, to involve them more."
The OCCJ Trialogue Series is made possible in part by the Tulsa Library Trust's Alfred E. Aaronson Lecture Series Endowment.