Camp Anytown, Oklahoma
For over 20 years, Camp Anytown, Oklahoma, (which began in 1994), has listened to the hopes, fears, frustrations and dreams of young Oklahomans.  Anytown has been recognized as one of the most effective human relations and leadership/diversity training programs for youth in Oklahoma. Each year Anytown sends forth a new class of world citizens.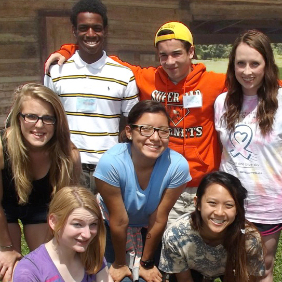 Anytown Includes
Discussion groups and workshops

Culture night

Talent night

Campfires and singing

Recreational activities
Anytown Enhances
Citizenship

Self Awareness

Communication skills

Leadership skills

Cultural awareness

Racial understanding

Gender role perceptions

Family relationships

Interreligious respect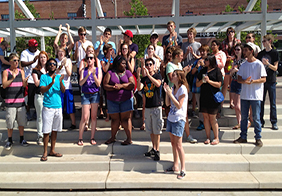 Anytown Experience
Incoming sophomores, juniors and seniors from high schools in Oklahoma come together for one week in a peaceful camp setting, bringing to each other the experiences of their diverse cultural, ethnic, religious, racial and economic backgrounds.
Respect and awareness develop, as delegates become friends, learning from and about each other.  Workshops, discussion groups, assemblies and special events contribute to the Anytown experience.  Leaders from Oklahoma's cultural, professional, religious and educational institutions serve as resources.
Anytown delegates are the leaders of tomorrow.  Anytown prepares them to make decisions based on an awareness, appreciation, and understanding of the diversity that exists in all aspects of life.  Delegates leave Anytown with a comprehensive understanding of what it means to be a world citizen.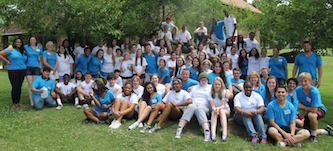 Delegates
Anytowners represent a wide variety of racial, religious, ethnic and economic backgrounds.
The Anytown selection process begins with the submission of an application and a letter of nomination from an adult advisor involved in a leadership activity listed on the application.
The cost of the week-long Anytown session, $350, includes round-trip bus transportation from Tulsa and Oklahoma City to camp, meals and housing, an Anytown T-shirt, and all workshop materials. Insurance is provided for the camp. Scholarship assistance is available.
Staff
The Anytown staff is made up of co- directors experienced in conducting Anytown camps; adult advisors, all community leaders with human relations and communications skills; and college-age counselors, all Anytown alumni, who live with the delegates, provide guidance and facilitate the week's learning process.
Here's what some former delegates have said about Anytown.
"This has been the best week of my life. THANKS, ANYTOWN!"
"It is an experience that you will ALWAYS remember."
"I really want to share this experience with as many people as I can."
"I had never known people to love me and treat me like family outside of my race before Anytown."
"It is possible for different cultures to live in harmony. There is hope!"
"Anytown has taught me a lot about my own life and what I need to do to improve myself."
"No one was afraid of anything. We came to Anytown divided, but left as one."
---
Gwen and Steve Malcolm Inclusive Leadership Scholarship
After attending camp, delegates are eligible to apply  for a higher education scholarship, awarded to two graduating seniors each year.
Click HERE for more details about the Gwen and Steve Malcolm Inclusive Leadership Scholarship.