Anyday Institute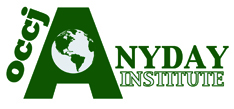 Anyday is an interactive half-day workshop for high school students. Unlike its more advanced counterpart, OCCJ's Anytown program, Anyday can be requested by schools for all students in the freshmen class. Anyday provides a place for students to come together and to be introduced to a foundational understanding of diversity and inclusion issues. The program explores these topics in a safe environment, utilizing small group discussions, interactive activities, and a basic education on themes explored in depth at Camp Anytown.
Anyday is carefully structured in its progression. Starting off with basic concepts and activities, the program builds on the relationships that students already have, and provides a safe and supportive environment for them to create new relationships, while enhancing existing ones. Anyday also focuses on personal growth, encouraging self-esteem and confronting stereotypes. As the workshop proceeds, they will interact with each other on increasingly complex and sensitive topics. Focusing on what they have in common and how they can benefit from their differences, they will encounter new ideas and tools to help them have dialogue rather than debate, appreciation rather than tolerance, and understanding rather than judgment.
Anyday can be helpful with groups at all levels of understanding. OCCJ believes that there is no wrong time to begin the conversations that make our world a better place. Through the Anyday program, students will take the first steps toward becoming world citizens and creating change in their schools, in their communities, and in our state.
Complete the form below to request information on how to have this program presented in your school.