News & Publications
Interfaith Trialogue Successful
Posted on 03/09/2015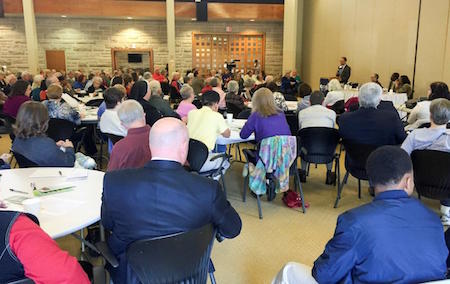 The 2015 OCCJ Interfaith Trialogue sessions wrapped up last month, and this year's program welcomed more than 200 participants at each session – a growth overall from previous years.
This series, Race, Ethnicity, Religion, Culture: Searching for Compassion, not only focused on equality and compassion, but on these specific areas in the city of Tulsa. Presenters covered city policy, history and geography and how these factors relate to current race relations, privilege, law enforcement, and more.
Audience feedback was incredibly positive, with participants sharing comments mentioning their new understanding of how segregated Tulsa is as well as not realizing how privileged their lives are.
Presenters challenged Tulsans to take certain steps to overcome Tulsa's racial shortcomings, as well as reach out to new Tulsans, as individuals, congregations and communities. Law enforcement officials shared their tactics on improving compassion and race relations and shared how education is important to every culture and group.
Videos of the Trialogue presentations are available online. Click here for the index of presentations.