News & Publications
Apply now for Camp Anytown
Posted on 03/09/2015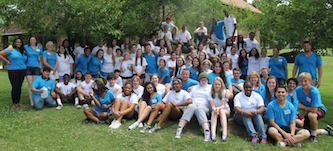 Camp Anytown is set for July 19 to July 25, 2015 and it's time to apply for this year's experience. Applications can be found here and are due by July 5, 2015.
Part camp and part leadership development, Camp Anytown is an educational experience allowing high school students to immerse themselves in a diverse and multicultural environment. Anytown provides tomorrow's teachers, professionals, leaders and parents with the information they need to understand various cultures and promote equality in school and the workplace.
According to Anytown participants, the experience is impactful and life-changing. Here are a few statements by former campers:
"I had never known people to love me and treat me like family outside of my race before Anytown."
"It is possible for different cultures to live in harmony. There is hope."
"Anytown has taught me a lot about my own life and what I need to do to improve myself."
"No one was afraid of anything. We came to Anytown divided, but left as one."
Camp Anytown is a bonus on resumes and college applications and prepares students for life at college and beyond. Scholarships are available and students are accepted from across Oklahoma. Transportation is provided from Tulsa.
Scholarships are available thanks to our generous donors and friends of OCCJ. If you're interested in sponsoring a student for the 2015 Camp Anytown, email srana@occjok.org.