News & Publications
Transform Hate community exhibits hit Tulsa
Posted on 01/07/2015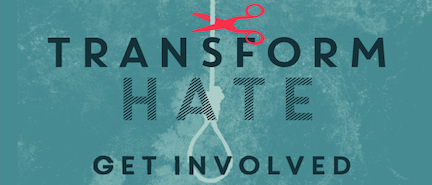 In January and February, various community organizations will present the Transform Hate community art project. Living Arts will host two exhibits that address the transformation of hate called "Speaking Volumes/Transforming Hate". Living Arts seeks to create city, county and even state-wide participation through conversations and community artworks as a vehicle to address this need and give our citizens a way to express themselves about this subject.
This exhibit is the central core of the project, but community partners all across the metro area are participating through various exhibitions and interactive art. Additionally, a website offers teaching materials for teachers or other community members to share the message of Transform Hate. Through a network of partners, Tulsans can view art on this subject; hear spoken messages; read written words; create their own art; or even hop a bus to visit various galleries.
This project brings together partners from across the city to reach the maximum number of Tulsans with the message. For more information about Transform Hate, click here.