News & Publications
Thankful for generosity
Posted on 10/30/2014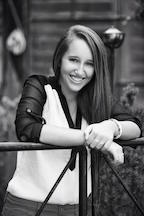 Danielle Cain, a graduate of Bishop Kelley and a previous attendee of Camp Anytown, is now attending Oklahoma State University, thanks in part to the Gwen and Steve Malcolm Inclusive Leadership Scholarship. The scholarship is a need-based opportunity that any Anytown alum can apply for to help cover the costs of college.
"The scholarship helps me not have to take as [many] loans," said Danielle. "Since I want to be a teacher, I need all the help I can get."
OCCJ donors help make scholarships like this college scholarship as well as Camp Anytown camp scholarships available.
"Camp Anytown is the place I found my meaning of life," she mentioned. "How to care for others, how to fight for equality…Anytown made me who I am today."
Danielle said she was a stubborn Catholic that led a sheltered life, but Anytown helped her better understand others and realize that we are all humans with the same rights. The lessons learned at Anytown will stay with her, through college and into her professional career while dealing with students from various backgrounds.
Danielle is thankful for the assistance from the scholarship, and honored she was chosen.
"It goes to so few people, and I am more than happy that I was chosen," she said.
To consider giving to OCCJ to provide scholarships to students like Danielle, click here or email edukes@occjok.org.