News & Publications
OCCJ's anti-bullying programs target all ages
Posted on 09/02/2014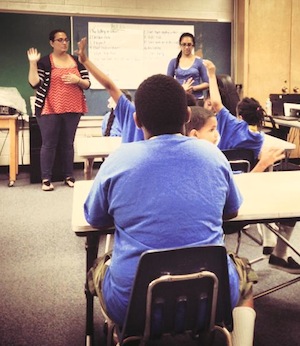 To counteract bullying and promote equality in Oklahoma schools, OCCJ offers programs for various age levels which are implemented by staff and volunteers across the state.
The Different and the Same program focuses on children in the second grade and helps kids identify, talk about, and prevent prejudice. Through a series of video tapes, teachers and their students touch on themes ranging from stereotyping, speaking different languages, cross-cultural and interracial friendships, and standing up against prejudice. A facilitator guides the process, encouraging the kids to share their own experiences and come up with creative solutions.
Aimed at an older crowd, the Middletown Institute works with seventh graders and provides participants with the tools and basic skills to reduce incidents of racism and bullying in their schools. Students will learn the effects of bullying on their own emotions and the emotions of their peers. Activities focus on body image, race, gender, and relationship-orientation.
Finally, the Anyday Institute presents high school freshman with a foundational understanding of diversity and inclusion issues.
Guy Langston is a retired volunteer with Different and the Same. He enjoys making a difference in the lives of kids with these tools and resources; and believes second grade is a good age to introduce D&TS and related topics.
"D&TS has made me see more clearly the necessity of presenting these concerns at this point in these kids' lives," Guy said. "They deal with diversity every day and seem to welcome the program…they are aware and ready to discuss the topics."
OCCJ staff and volunteers are ready and able to implement these programs at your school, church or other youth group. To find out more information, or to volunteer, click on the links in this article or click on the programs tab on www.occjok.org.