News & Publications
OCCJ reps visit Turkey
Posted on 09/02/2014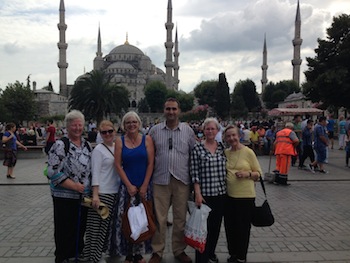 Contributor: Sister Barbara Austin, OCCJ board member
Tesekkur Ederim (Turkish for "thanks very much") to Yusuf Dundar, OCCJ board member and director of the Tulsa Turkish Raindrop House and Southwest Dialogue Institute. Yusuf recently invited and guided two groups of OCCJ board members to Turkey. The first group from Phillips Theological Seminary traveled in May and a second group of board members and associates traveled in August. I was fortunate to be a part of the August tour, along with Jayme Cox and Adrienne Watt.
Loving kindness and gracious hospitality punctuated every aspect of this journey. The experiences of culture and history came alive through many meals accompanied by those welcoming us as well as our stay with host families in Kutahya. Historical sites captured our attention and stamina, as an intuitive understanding of life as it has been experienced in this land for centuries traveled with us. Present day beauty, commerce, family life and neighborhood mosques gave us all our hearts and suitcases could hold for the return journey home.
Our most valuable learning came about in dialogue with leaders on site at institutions of the Hizmet movement founded by Fethullah Gulen. Respect and understanding developed through education, communication, health care and a worldwide response to hunger and disaster are this movement's effort to develop a modern culture of peace and harmony. We learned of the work, challenges and hopes of this movement and its focus on ideals that promote the values of a modern democratic society. We are grateful to the Raindrop House and Southwest Dialogue Institute for this unique opportunity.