Annual Knippa Lecture Series
History of the Knippa Lecture
In recognition of the distinguished ministry of the Rev. Dr. Clarence W. Knippa, an endowment fund for a lecture series was established on the occasion of the 50th Anniversary of his ordination. The purpose of the Knippa Interfaith/Ecumenical Lecture Series is to foster and promote understanding, respect, and appreciation for the religious and ethical traditions and concerns of others. 
The 2019 Knippa Interfaith & Ecumenical Lecture Series is Sunday, January 27, 2019, at 4:00 p.m. at Grace Lutheran Church. 
2019 Knippa Interfaith Speaker: Rev. Dr. John Nunes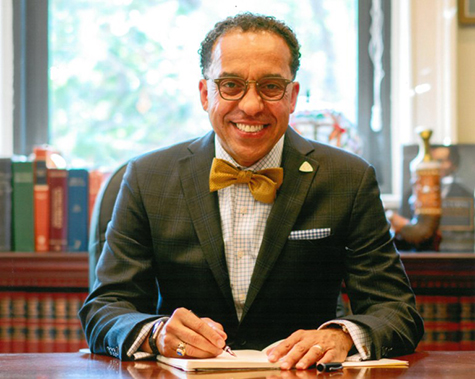 Dr. John Arthur Nunes, President of Concordia College New York (Bronxville, NY) joins us for the 2019 lecture entitled, "Tired of Talking about Diversity? Try This!" 
"Many experts consider the United States of America to be the greatest experiment in pluralism in human history. Yet there seems to loom a creeping fatigue–sometimes verging on resentment–concerning the degree of intentional dialogue about diversity. I will challenge our faith communities to dig into their own traditions to mine motivation for leaning more deeply into our multi-ethnic reality. This is not only for the sake of the future of human society, but, as we witness with the robust rise of secularism, for the sake of the future integrity of their faith traditions themselves."
Dr. Nunes is the ninth President of the College since its beginning. Under his leadership, the College has grown to a record enrollment and been named a Fastest-Growing College.  Dr. Nunes came to Concordia from a professorship at Valparaiso University, and prior to that, he was the President and CEO of Lutheran World Relief – a $50 million organization with offices in 17 countries working to alleviate poverty and human suffering.
Dr. Nunes is a graduate of Concordia College, Ann Arbor; holds a Master of Divinity degree from Concordia Seminary in Ontario, Canada; and both Master of Theology and Doctor of Philosophy degrees from the Lutheran School of Theology at Chicago.  Dr. Nunes is a noted Lutheran Church Missouri Synod Theologian and dynamic speaker.  He has strong social sensitivities which embrace the whole of the human experience.