Annual Awards Dinner
OCCJ to Honor Dr. Steadman Upham at 56th Annual Awards Dinner
October 14 - Cox Business Center - Reception: 6:00 pm, Dinner: 7:00 pm, and Program: 8:00 pm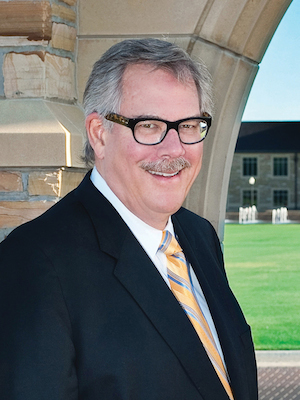 The Oklahoma Center for Community and Justice (OCCJ) will honor Dr. Steadman Upham, President of The University of Tulsa, during its 56th Annual Awards Dinner at the Cox Business Center in Tulsa on Tuesday, October 14, 2014.
The Oklahoma Center for Community and Justice is dedicated to achieving respect and understanding for all people through education, advocacy and dialogue. Dr. Upham exemplifies OCCJ's mission and is a steadfast advocate for diverse and inclusive communities throughout Oklahoma. He shares OCCJ's vision of eliminating bias, bigotry and racism and continues to support the organization's education and dialogue programs as a member of OCCJ's Board of Directors. OCCJ is honored to recognize his transformational leadership, as well as The University of Tulsa's commitment to enriching the lives of Oklahomans through scholarship and service.
Dr. Steadman Upham currently serves as the 19th President of The University of Tulsa, first arriving at TU in 2004. Dr. Upham is a widely published archaeologist, having written or edited 10 books and more than 75 book chapters and journal articles. Prior to coming to Tulsa, he served as President and Chief Executive Officer of Claremont Graduate University, a research university and a member of the Oxford-style consortium known as The Claremont Colleges in Claremont, California. Dr. Upham received his Ph.D. degree in anthropology in 1980 from Arizona State University. The University of Oregon presented Upham its Martin Luther King, Jr. Award and Director's Award for Service and Achievement in 1998. In 2001, Dr. Upham received the Academy Gold Medal of Honor by the Academy of Transdisciplinary Learning and Advance Studies.
Dr. Upham's extensive professional service and accomplishments have included Commissioner of the Western Association of Schools and Colleges; Chairman, Board of Directors of the Council of Graduate Schools; President, National Physical Science Consortium; Director, The American Mutual Funds; Director, St. Francis Health System; Director, Tulsa Chamber of Commerce; Director, American Council on Education; Director, National Collegiate Athletic Association, and Member, Fund for the Improvement of Postsecondary Education National Board.
During the past decade, The University of Tulsa has achieved a remarkable transformation. It is ranked No. 88 among all national universities by U.S. News and World Report and among the top 100 law schools and top 100 graduate business programs. TU has added more than 1 million square feet of usable space, including student apartments and activity centers, academic and administrative buildings, and athletic facilities since 2004. The university's seven-year Embrace the Future campaign raised nearly $700 million. Thanks to the campaign, TU created $119 million in scholarship endowments, 1,182 new awards, $87 million in faculty endowments and 47 new endowed positions.
The October 14 event takes place during TU's Homecoming Week with a reception at 6:00 p.m. and dinner at 7:00 p.m. For information regarding sponsorship opportunities and individual tickets, please contact Emily Dukes at edukes@occjok.org or 918-583-1361 ext. 13.
Sponsorship Levels
Presenting Sponsor - $25,000
Three premier tables for ten (30 reservations)
Special recognition in event publicity, program
Representative may give welcome remarks from the podium
Human Spirit Sponsor - $12,500
Two premier tables for ten (20 reservations)
Special recognition in event publicity, program, and from the podium
Community and Justice Sponsor - $7,500
One premier table for ten (10 reservations)
Special recognition in event publicity, program and from the podium
One World Circle - $5,000
One preferred table for ten (10 reservations)
Special recognition in the program
Bridge Builder - $3,000
One reserved table for ten (10 reservations)
Special recognition in the program
Individual Tickets - $300